SEAFOOD INTERNATIONAL OÜ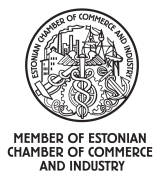 SEAFOOD INTERNATIONAL OÜ,
sister company to International Fine Foods is located in the European Union, the Republic of Estonia. Seafood International OÜ imports, processes, distributes and exports fresh water fishery products, offering local representation for International Fine Foods, Inc. in the European and Russian market. The company offers private label and packaging according to customer specifications. Seafood International also subcontracts with various design and packaging companies to provide you best quality and lowest price.
The company offers roe pasteurization service.
Factory EE207EÜ (EE207EU)